Pictopix
A downloadable game for Windows, macOS, and Linux
Pictopix is a puzzle game where you use logic to color squares on grids in order to reveal pictures. Easy to learn and very addictive, the game starts with small grids and ends with big grids. With over 150 colored puzzles, a shuffle mode and a puzzle editor, Pictopix will bring you hours of fun !
Try the demo and support Pictopix on Steam Greenlight!


Main Features
Play over 150 colored puzzles (from 5x5 to 25x25)
Learn the rules with a fun tutorial
Unlock Shuffle mode
Earn achievements for more challenges
Create your own puzzles
And share them via Steam Workshop
Other Features
Logically solvable puzzles (no guessing required)
Useful hints to help beginners (switchable)
Playable with mouse, keyboard or game controller
Multiple save slots
Puzzles can be suspended and resumed at any moment
Smart Slide (helps you to draw straight lines even if the mouse wanders out of the row)
Undo and Redo buttons to fix your mistakes

You've never played a game like Pictopix? It's easy! Look at these numbers on top and on the left of the grid. They help you to find which squares have to be filled in. When the right squares are filled, a nice picture is revealed.

One of the big features of Pictopix is the possibility of creating and sharing your puzzles with other players. As you can see in the image below, the game includes an easy to use editor . There is a layer to draw the picture that will be revealed when the puzzle is solved and another layer to draw the squares to fill in. Once your puzzle created, the editor will tell you if it can be solved logically (without guessing). The Pictopix puzzles have been created with it !

The puzzle editor is present in the demo version of Pictopix (see below to download it). In the final version of Pictopix, you will be able to share your creations with Steam Workshop.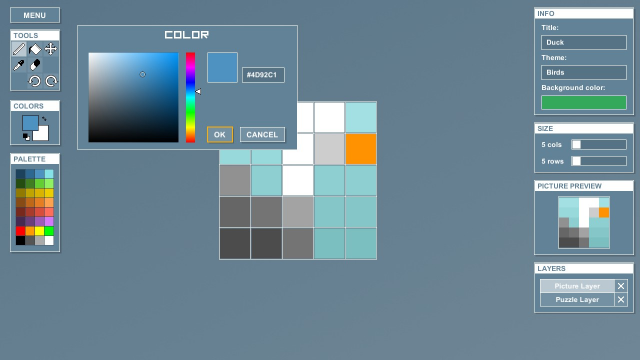 Download a demo of Pictopix on the website ! (click here) The demo contains 15 puzzles (from 5x5 size to 25x25). The Shuffle mode is available and you can create puzzles with the editor.

Don't hesitate to give your feedback, so the game will be improved.

When the game will be released?

The release date depends on player's feedback and some Steam elements like achievements, Cloud save and workshop have to be integrated. So the the release is planned in late 2016.
Which platforms are supported?

For the release, Pictopix will be on Windows and Mac. The next platform will be Linux. And according to the success of the game, others platforms will be taken into account.

You can download the demo on the website and if you want to support the game, please vote for Pictopix on Steam Greenlight!
You can follow Pictopix on Facebook, Twitter, Tumblr or IndieDB.

Have fun!
| | |
| --- | --- |
| Published | Nov 07, 2016 |
| Status | In development |
| Platforms | Windows, macOS, Linux |
| Rating | |
| Author | Tomlab Games |
| Genre | Puzzle |
| Tags | griddlers, hanjie, nonogram, picross, Pixel Art |
| Links | Steam, Homepage, Steam Greenlight, Twitter |